Tuesday 15 March 2022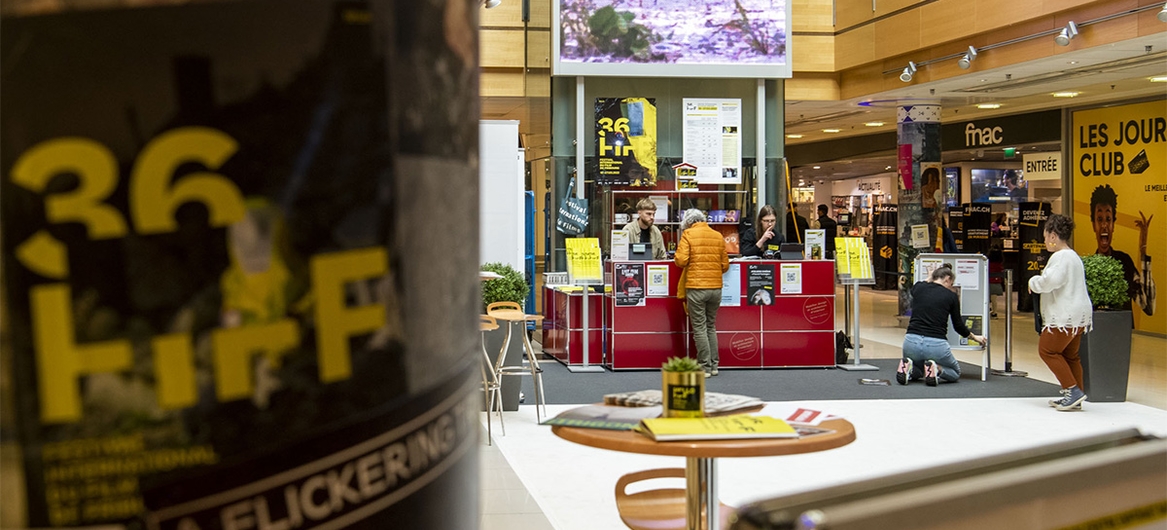 Fribourg International Film Festival settled in Fribourg Centre shopping center. It offers there a ticket office, workshops, a screened exhibition and live radio broadcasting.
From 14th to 26th March, the Festival takes up the main atrium of the mall. In addition to its ticketing and merchandising stand, FIFF offers varied activities.
PROGRAMME
14 - 26 March
Exhibition
Elsewhere is here
Gain height in the mall and watch the projected on the ground floor.

With a ticket from FIFF, receive a free entry at the Maison d'Ailleurs, Yverdon-les-Bains from 1st to 31st March 2022.

Contest Fribourg Centre
Answer the 10 questions and win tickets for FIFF.

 
17 and 19 / 21 and 23 March
Guardian Angels
13:30 - 16:00
People who are not at ease with the use of online booking platforms can meet with FIFF's Guardian Angels and learn to use our mobile app and our website.
Complete information
19 and 23 March
Workshop «found footage»
14:00 - 16:00
For teenagers aged 13 to 19. A film director will help participant shoot a short film using their mobile phones.
No booking needed, limited number of participants.
21 - 25 March
Les petits déjeuners du FIFF
10:00 - 11:00
Live radio broadcast by RadioFR with guests of the Festival.
26 March
Film and series signing with Pierre Monnard
12:00 - 13:00
Meet with Pierre Monnard in FNAC shop in order to get your signed copy of Platzspitzbaby's DVD or of one one the many series directed by this Swiss filmmaker (Wilder, Neumatt, Hors Saison).