Sunday 17 March 2019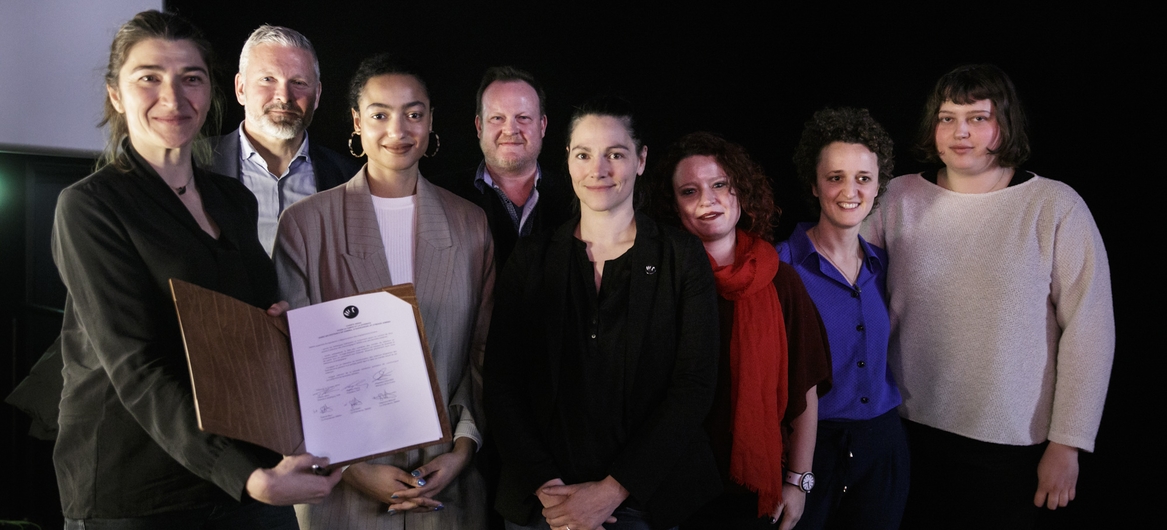 This afternoon, the management board of Fribourg International Film Festival (FIFF) signed the Programming Pledge for Parity and Inclusion in Cinema Festivals, an initiative launched by SWAN (Swiss Women's Audiovisual Network). In the presence of signature sponsor Magaajyia Silberfeld, Thierry Jobin, FIFF's artistic director, and FIFF president Mathieu Fleury reiterated the Festival's commitment to supporting and promoting women in the Swiss and international audiovisual industry.
This year's programme features films by 52 female directors and 90 male directors: more than one third (36.6%) of the films selected for the 33rd edition were made by women. As for the festival itself, women make up 60% of the team, including at management level.
FIFF is the third Swiss film festival, after Locarno and Solothurn, to sign the Programming Pledge for Parity and Inclusion in Cinema Festivals. As a signatory to the Pledge – an initiative of the association SWAN – the Festival will undertake to collect and publish gender statistics, as well as championing gender equality in its selection and programming committees and at management level. These data will allow the Association to include a review of the Festival's parity and diversity efforts in its annual report: "We are delighted with this first step towards equality and diversity in festivals, said SWAN co-presidents Gabriel Baur, Laura Kaehr and Stéphane Mitchell. As with budgets and funding, women are entitled to an equal share of light and screens. The visibility of our films is essential."
At the signing ceremony, FIFF artistic director Thierry Jobin reiterated the Festival's longstanding commitment to diversity in general, and gender diversity in particular. The 2016 programme, for example, was given over entirely to women and paid tribute to the pioneering contributions they have made to film, both in front of and behind the camera. Female directors, producers and actors regularly feature among the Festival's special guests Géraldine Chaplin, Beki Probst, Jocelyne Saab, Kaouther Ben Hania, Alice Diop, Yaelle Kayam, Angèle Diabang, Haifaa Al Mansour, Kang Soo-yeon or Léa Pool. "Shortly after Women's Rights Day and a few months before the national women's strike announced for 14th June, this signature is a further step in the quest for parity," said Mathieu Fleury, president of the FIFF association. It is only coherent when, like the FIFF, we defend diversity in all its forms."
The signing ceremony was held at the end of the round table discussion "Being a black woman is not my job", during which five French Afro-descendant actresses – Magaajyia Silberfeld, Mata Gabin, Sabine Pakora, Maïmouna Gueye and Marie-Philomène Nga – shared their views on women of colour in film. "I am honoured to sponsor the Pledge for Parity and Inclusion for the FIFF," said Magaajyia Silberfeld, curator of the Decryption section. This signature, as well as the round table devoted to "Being a black woman is not my job ", are both important and necessary symbols. They resonate with our demand that women, all women, of all origins, of all nationalities, in all their diversity, have a place worthy of the name in the film industry."