Discover big-screen gaming!
If you love gaming, then you definitely don't want to miss Cutscene! FIFF will take over auditorium 2 of the ARENA Cineplex so that you can play and watch video games on the big screen, and immerse yourself in entirely new worlds.
The programme features the top releases from Switzerland this year, as well as classic games and lots of other events as well. Whether solo, with friends or family, take your gaming to the next level with Cutscene!
Saturday 18th - ARENA 2
Meeting of the Swiss Game Developpers Association with workshop and round table. Detailed programme available under.
Free entry.
From Monday 20th to Friday 24th - ARENA 2
From 17:00 to 23:00, members of Cutscene will welcome you and invite you to test the four following Swiss games :
- Ninza
- Swordship
- Captain Velvet Meteor: Jump + Dimensions
- Backfirewall
Special Cutscene ticket required (valid all week)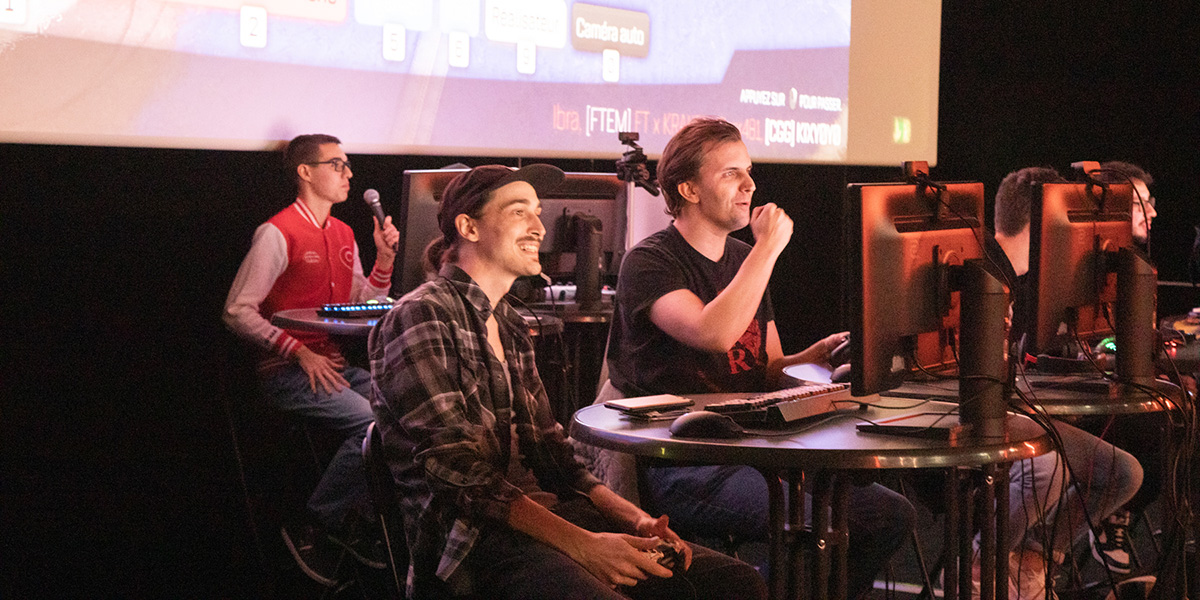 Samedi 18 mars: Swiss game designers day
Swiss games studios share their experience and give insights into their work. As previous editions have shown, production knowhow transfer is key for the ongoing professionalisation of the Swiss game industry.
Qui Cung, Naraven Games & SGDA Board Member hosts this event.
Game Production Workshop
The Game Production Workshop puts its focus on Swiss studios having recently published a successful game. The game creators take us on a journey through the entire development process. They will share with us insights about what went well, but also about what did not work smoothly right away. The game devs share their learnings about the development phase but also the important stage of publishing the game.
Captain Velvet Meteor by Momo-Pi
Swiss Game Awards 2022: Excellence in Execution Award
Swordship by Digital Kingdom
Independent Games Festival 2023: Honourable Mention for Excellence in Design
Independent Games Festival 2023: Honourable Mention for Excellence in Visual Art
Swiss Game Awards 2022: Finalist
The presentations are followed by a Ask-Me-Anything session. You will have the opportunity to ask the studios present all the questions you have about creating games loved by the players.
Games against Extremism
In the second part, the Swiss Game Developers Association will present its most recent publication, the Swiss Safe Games Guide.
Games have experienced a sharp rise in the last twenty years. They have become a globally respected cultural asset and the entertainment medium with the highest turnover. Games offer an incredible number of opportunities for society. They are already being used successfully beyond gaming in the context of medical therapies, in the communication of political issues, but also in the solution of scientific problems, as in the case of citizen science, and quite generally for the transfer of knowledge and as a medium of communication.
However, as with any medium, there are numerous advantages, but also the danger of games being hijacked by people or groups with dishonest intentions. Since its foundation, the Swiss Game Developers Association (SGDA) has been working to ensure that its members are aware of these pitfalls and assume responsibility to society when developing games.
The Swiss Safe Games Guide shows what extremism is and how this is expressed in games or which elements can risk being misused by extremists for their purposes. Game developers can use the guide to get an overview of the essential information on the topic in a short time. The guide is an aid to the development of games that are free of extremism.
Speaker: Margot Huber
More information: safegames.ch
 
Un dernier Film
The video game Un dernier Film (One Last Film) has been developped especially for FIFF. It focuses on a young woman, the sole survivor of an apocalypse, as she and her dog travel around the wasteland of Fribourg, desperately searching for films which are the only remaining vestiges of a world that no longer exists.
Scroll down to play Un dernier Film. Please note that the game is not smartphone-compatible. Given that you need to use the keyboard to move the characters, you can only play the game on a computer. For a better gaming experience, we recommend you play in full screen mode.
The creator of the game tells you about it in video: